The 18 Best Vegan and Vegetarian Restaurants in New York City
If you've spent your entire life glued to the carnivorous lifestyle, you might be surprised to hear about the kind of spells New York City vegetarian and vegan restaurants are casting on vegetables nowadays. But for those who have long maintained a plant-forward lifestyle, this news is hardly a revelation. From a fast-food counter slinging heavenly veggie burgers to a Brooklyn diner veganizing your favorite comfort foods, these are the best vegan and vegetarian restaurants in NYC.
Superiority Burger
Restaurant, Contemporary, Vegetarian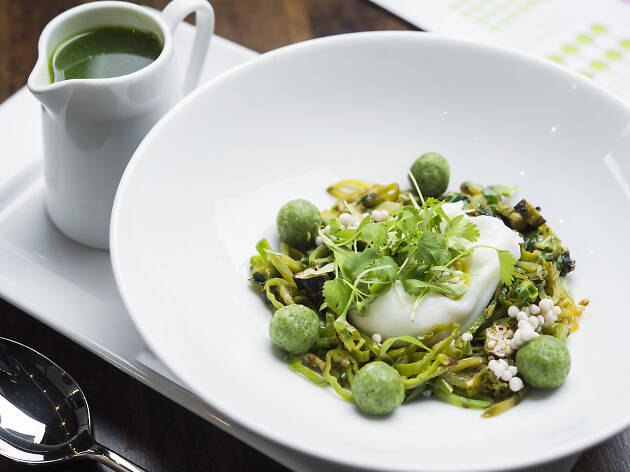 Hidden down a flight of stairs is the sunken Superiority Burger, the East Village's sanctuary for vegetarian and vegan food. Chef Brooks Headley, who left fine-dining kitchens to open a burger joint, helms the postage stamp of an operation. Vegetarians and carnivores alike flock here for the eponymous burger (a squat patty brimming with quinoa, chickpeas and walnuts, crowned with muenster cheese, lettuce, tomato and pickles). Pair the sandwich with sides such as the tahini ranch romaine salad or the rotating daily special, which is often announced on Instagram.
Beyond Sushi
Restaurant, Healthy, Vegan, $
$$
While it's true that just about anything wrapped in sushi rice and seaweed and dipped in soy sauce is purely delightful, Beyond Sushi takes vegan rolls one step further. This sushi restaurant is creative with its use of plant-based food, quickly making you forget all about raw fish. Titillate your palate with pickled burdock root, black rice and creamy tahini and lemon-saffron sauces. The appetizers and mains go beyond rolls while still maintaining similar flavor profiles, such as in ramen, ravioli, dumplings and giant roasted cauliflower heads, so the options are abundant. The growing chain has multiple locations, some with dessert and drinks.